#GivingTuesday is November 27th!
All Donations Double in Value for the Siddhartha School Scholarship Fund.
Join us for our 4-day campaign to raise funds for the Siddhartha School Scholarship Fund. Kick off is Saturday morning, November 24th. From Stok Village to Delhi, from New York to LA, the Siddhartha School friends and family will collect your generous donations to provide free education to Ladakhi children in need.
Matching grants will be in effect, and terrific thank-you gifts will be offered. Each year, our students, teachers, sponsors, donors, partners, and friends come together over these 4 days to provide nearly 400 full and partial scholarships to vulnerable children. The campaign ends at midnight, #GivingTuesday, November 27th.
Join SSP's Global Support Network:
Together Our Contributions Will Ensure Free and Reduced Tuition Grants to All Students for the 2019 School Year.
Last year, over 79 individuals gave over $65,000 dollars, and thanks to 4 very generous, anonymous donors who pledged to match these donations, SSP received over $130,000 in funding. When we added in snail mailed checks, wires, and a very sweet local festival in Ladakh held at the school, pushed our grand total for the Siddhartha School Scholarship was $139,158 USD in scholarship aid. Amazing.
We are hard at work in Maine, New York, and Ladakh to make this year's #GivingTuesday even better. If you'd like to partner with us as a social ambassador, you can help us get the word out on social media about this incredible opportunity to keep Siddhartha School free to families who cannot afford Siddhartha School's already low tuition on their own. Send us your photos and quotes about why you support Siddhartha School Project and we'll tag you on our FaceBook, Instagram, and Twitter feeds.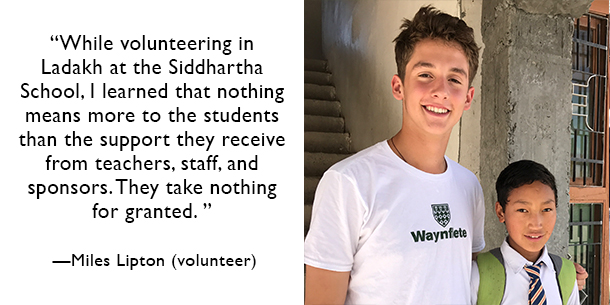 Partnering Businesses Raise Awareness and Funding: 
Companies, Centers, and Studios Help Rally Support for Students.
To our 9+ partners who helped SSP last year,  you were the bones of our #GivingTuesday campaign. Your creative events, special benefit classes, proceeds giving, partnership blasts, social sharing, and hard gift donations boosted us right over our stretch goal funding. We extend a HUGE thank-you to you for all your work and skillful ways of helping us meet our goal.
If you'd like to learn more about how your business can partner with SSP this #GivingTuesday, email us . We'll share how you will lend your hand to Siddhartha School in our newsletters and promotions as we lead up to #GivingTuesday