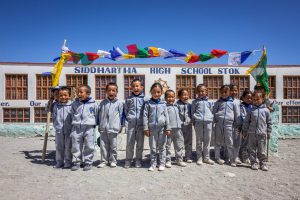 Thank you for wanting to sponsor a Ladakhi child's education! You can sponsor a student's entire year of education for just $360, less than a dollar a day.
You can set up secure, recurring, sponsorship donations online at the link below.

If you'd like to donate by check, you can mail a check to:
Siddhartha School Project
P.O. Box 3405
Portland, Me 04104
Please include your current mailing address and telephone number. You can pay quarterly ($90/quarter), semi-annually ($180 x 2 payments), or annually ($360/year).
We respect your privacy and will not share your information with third party vendors or lists.
Your contribution is tax-deductible. Please print a copy of your PayPal or Kindful  transaction receipt for tax record purposes.
"On my recent trip to Ladakh I got to meet and spend time with the girl I've been sponsoring. How wonderful it was to be with her and her family and witness what a positive impact Siddhartha School is having on the students and the community."— Doreen Thompson, Maine