Make a donation today to the #OurSSP Campaign. MATCH IN EFFECT through December 2nd!
What is #GivingTuesday? A global day dedicated to giving back. On Tuesday, December 2, 2014, charities, families, businesses, community centers, and students around the world will come together for one common purpose: to celebrate generosity and to give.
Join millions around the world to make this the most charitable of day of giving ever for humanitarian causes. Help #OurSSP harness the power of this day to bring vital improvements to Siddhartha School and the children it serves in the high mountains of Northern India.
Thanks to a generous donor, FROM NOW UNTIL MIDNIGHT ON DECEMBER 2nd ALL GIFTS WILL BE MATCHED, doubling your charitable impact to support the education and cultural enrichment for Ladakhi youth.
Here's How:
1- PLEDGE. Make a Donation to Siddhartha School Project's #OurSSP Campaign
This year our goal is to raise $48,000 for boys and girls washrooms and a school kitchen — critical improvements that build on our success in pumping and piping water to the school last year!
Click on the button below to make your secure pledge to the #OurSSP Campaign, or if you prefer contact Laura to arrange to have your check or bank transfer counted toward the matching gift in effect.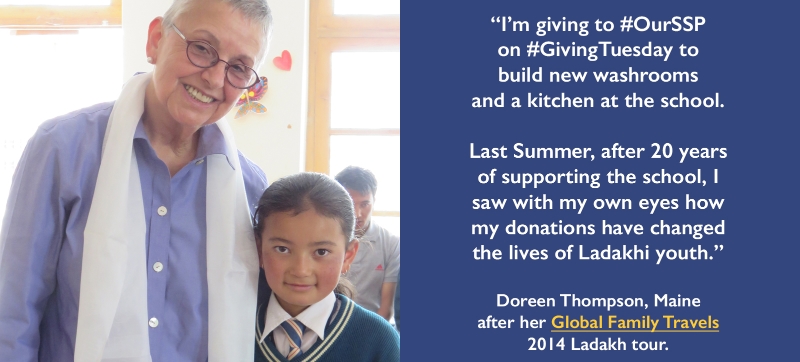 2- SHARE. Post news of your pledge on the #OurSSP #GivingTuesday Campaign on social media.
Not sure how to do this? It's simple and quick. Here's how:
Like the #OurSSP Campaign Page:
Like Big News! SSP's #GivingTuesday Campaign Launches with a Match In Effect! on Facebook : http://bit.ly/159H9t7
Post to our FaceBook campaign page or your Twitter feed to share news of your pledge. Use these hashtags to help harness attention: #UNselfie, #GivetoSSP, #OurSSP, #GivingTuesday, #SiddharthaKids.
For fun and inspiration, consider taking an "#UNselfie" photo with your phone and adding it to your post.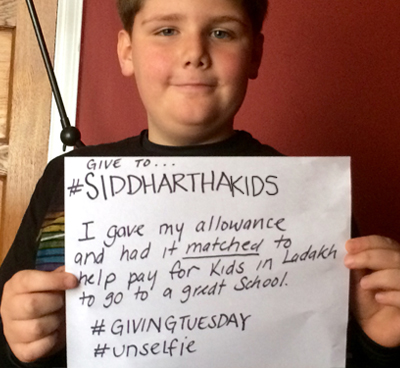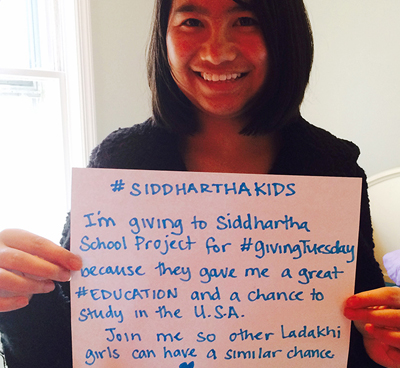 Help share the news of the campaign.
Together we can maximize the impact of the MATCH IN EFFECT and meet our goal to bring vital improvements to Siddhartha School and the children it serves.
— Thank You for Your Support —
---