Siddhartha School Receives Funding, Breaks Ground on New Youth Hostel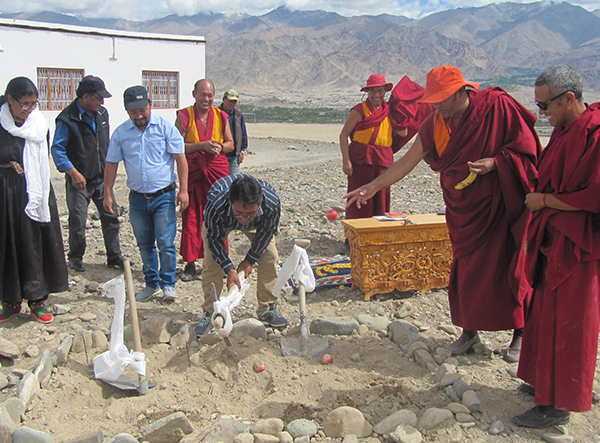 We are thrilled to share that the GO Campaign has awarded Siddhartha School another grant for campus improvements.
The $19,194 award to help build new Boys' and Girls' dormitories at the school completes the necessary funding for the Siddhartha Youth Hostel Construction Project.
The award money supplements two very generous gifts from New Family Fund and an anonymous donor to build the new boys' and girls' dormitories.
To facilitate an auspicious start to the construction, Khen Rinpoche, Geshe Tsewang, and staff held prayers on the construction site for successful completion of the project. Since mid September, laborers are working hard to get the foundations done before it gets too cold to work.
The Siddhartha School Youth Construction Hostel Project is designed to enhance community life for the residential children and staff in the following ways:
Boys and girls will enjoy separate dormitory buildings
Each dormitory is built with six, spacious suites designed to comfortably fit 4 children per room
Both dormitories have additional suites for staff, enabling the school to expand the number of residential teachers at the hostel
Each dormitory will have separate washrooms and bathrooms for added convenience and privacy
The existing youth hostel building shall be converted into a dining hall for the residential children
We are extremely grateful to GO Campaign, the New family, and our anonymous donor for funding this vital improvement!