End of Year Accomplishments & Gratitude — 2016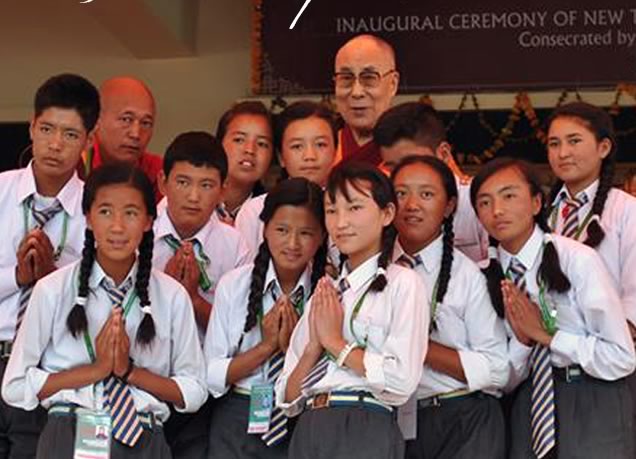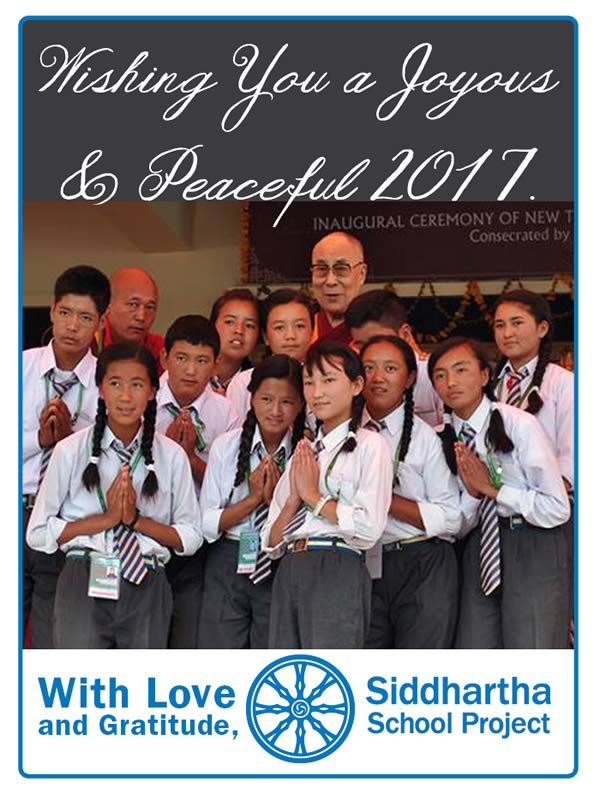 His Holiness the Dalai Lama posing with the Siddhartha School Debate team, August 2016
Dear Friends,
In anticipation of both New Year's Eve and Losar—Ladakhi New Year, we wish the happiest of holidays as 2016 comes to a close and joy and peace in 2017.
Khen Rinpoche, Siddhartha School's founder, Geshe Tsewang Dorje, school director, as well as SSP's US Board, and staff, feel so fortunate to have your support and friendship as we work to improve the education and opportunity for Ladakh's youth.
Looking back on another terrific year, we want to share just some of the many things we are grateful to you for this holiday season:
Your generous support for Siddhartha School is providing free education over 200 students—more than half of our student body—and reduced tuition for 160 families who can pay their share, but not the complete, true cost of a Siddhartha School education.
Your continued, generous funding of Siddhartha School Project has brought us the appreciation of HIS HOLINESS THE DALAI LAMA who, during his August return visit to the school, thanked SSP donors for the significant beautification of the school, the innovative curriculum, the cultural programming, and the continued progress of Siddhartha School students.
Your generous sponsorships which helped the entire 10th-grade class—12 students—graduate from Siddhartha School this year, and enabled all 12 to begin college in India.
Your scholarship funding ensures that our students continue to score better than 83% of the entire Jammu & Kashmir state on their exams, and that Siddhartha School maintains the distinction of being the only school in Ladakh with a 100% pass rate.
Your generous funding for a new school bus provides children and their parents with reassurance of safety and comfort as they travel to and from school each day.
Your generous help funding campus projects such as the Computer Room, including new electricity enhancements, plumbing for the youth hostel and washrooms, and drinking water stations. These improvements to the school's infrastructure mean the children are healthier, enjoying clean water, and they experience fewer interruptions during classes dependent on electricity, and that the computer room is always busy.
Your commitment and support empowered two of our graduates to gain acceptance into prestigious, American colleges (Smith College and Bennington College) with full scholarships. These students went to private high schools in the USA, graduating with honors. One received Congressional Recognition award for her public service, the other was recognized by the local newspaper as a top 'student to watch'. What is more, these students spend their summers giving back to remote villages in Ladakh by conducting health and leadership empowerment workshops for women and girls.
Your commitment and support for Siddhartha School helped encourage Siddhartha alum Tashi Laskit to set a new world record, as part of the first all-girl team to summit Mount Everest. Ms. Laskit credits her Siddhartha School education as a pivotal experience in her life, having taught her to aim high, to always do her best, and to make Ladakh proud.
In addition, your continued, generous support for the SSP scholarship fund has empowered us to broaden our focus to improve the campus and school programs.
We're partnering now with organizations such as the GO Campaign, as well as very generous private and family foundations on capital projects, bringing:
Further water and power enhancements on campus
New dormitories—one for boys and one for girls, so that our forty plus students who need to live on campus have a safe, comfortable, clean place to stay, with a loving, residential staff
Funding for a Social-Emotional-Learning expert to travel to Siddhartha School and stay for a month-long engagement with our teachers. These training sessions will be annual ensuring long-term benefits for teachers seeking to hone their skills and reach students who may struggle in class
Offering tutoring and guidance to students, planning field trips, giving college advice and most notably, starting Siddhartha Speaks, the school newspaper inaugurated by His Holiness the Dalai Lama in August
Our annual music camp, a source of pride, innovation and a deepening partnership with local musicians and the Ladakh Arts and Media Organization—a respected local NGO. Our students are mastering traditional Tibetan, Ladakhi, and Western instruments, and are learning contemporary recording methods and computer generated design and packaging for their music to share with our local and international communities. The Siddhartha/LAMO sound studio ribbon cutting ceremony took place in July, and student projects in oral and musical history are in the works for 2017.
The Hero Project expanded in scope, providing Siddhartha School students an international exchange of art and ideas with three US youth organizations and four other Ladakhi schools, promoting an increased cross-cultural and secular appreciation for communities who typically would not be afforded such an opportunity to express their values and appreciate similarities and differences.
In 2017 the Hero Project theme will be "Heroes of Everyday Life" so that young people may explore the heroes that make a difference in their local communities, and appreciate the significant role such people have in our localities and personal happiness.
Eighty plus donors generously gave to our #GivingTuesday Siddhartha School Scholarship Fund. This year was our most successful drive to date. Together, we raised more than $115,000 for the school's fund to ensure all our students can attend Siddhartha School regardless of their economic circumstances.
If you missed #GivingTuesday, it is not too late to make a gift to the Campaign. Your support is vital to our continued progress in the lives of the children we serve.
Thank you for making Siddhartha School a terrific place for the children of Ladakh, a source of pride for His Holiness the Dalai Lama, Khen Rinpoche, and the entire local community. You've created a beacon of hope for the parents who want to prepare their children to serve and lead Ladakh's future, rather than be overwhelmed by it.
With deepest appreciation,
Laura Kozaitis
Sara Crisp
Khen Rinpoche
Siddhartha School Project is a 501C3 non profit organization. All donations are tax deductible.
Checks can be made payable to:
Siddhartha School Project
PO BOX 3405
Portland, ME 04104
Secure credit card donations can be made online at our website
Contact Laura (347-489-1479) if you'd like to arrange a wire transfer or stock donation.