Amazing Results to Share About Our #GivingTuesday Campaign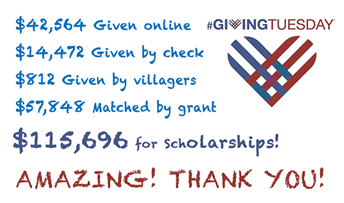 Click on the picture to watch your thank you video, complete with an original song written for Siddhartha School by Rosanne Cash.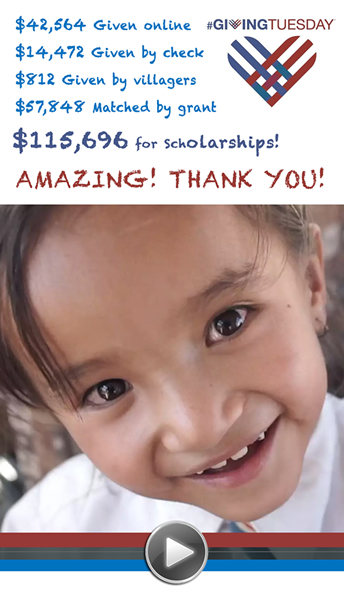 —Our Heartfelt Thanks to All—
As the results are being reviewed and more good news comes in, we wanted to share some notable results of our diverse community's efforts:
1. You've inspired a transcontinental, intergenerational force for good that believes in the power of eduction to brighten our local and global future
Rinpoche and Geshe Tsewang are delighted to share that Siddhartha School children took to their villages with a door to door drive for local contributions to the school's scholarship fund. Inspired by #GivingTuesday, the students, teachers, parents and local businesses, gave $812 in donations, raising $1,624 USD for the fund with the match!
Ladakhi and US donors to this campaign continue to rise in number, as people everywhere learn about the Siddhartha School Project and the scholarship campaign.
2. Our sponsorship program participation continues to rise.
We have 25 new sponsors who've signed on to help children in need of full support for their educations. You've joined 191 individuals in our community who enjoy helping a specific student in need and following their progress as they complete their studies at Siddhartha School. Welcome to you all!
3. We've made this our most successful #GivingTuesday to date.
We've totaled online gifts with your incoming checks and bank transfers, and our Ladakhi donor contributions collected by the Siddhartha School student body. Combining your $57,036 total contributions with the contributions of the Ladakhi donors yields a GRAND TOTAL of $115,696 for the Scholarship fund with the match!
4. Together, we will provide a total of 317 full and partial scholarships for students whose families cannot afford Siddhartha School on their own.
On behalf of everyone at Siddhartha School and the SSP Board of Directors, we wish to express our sincere gratitude for your very generous support. Thank you for making Siddhartha School Project a philanthropic priority.
With joy and appreciation,
Laura Kozaitis
Executive Director
Siddhartha School Project – USA
PS—There's still time to make an end of year tax-deductible gift to the #OurSSP Scholarship Fund if you missed #GivingTuesday.
Join us. Let's keep Siddhartha School open to all Ladakhi children regardless of their economic circumstances. Email Laura if you'd like to arrange a bank transfer, gift of stock, or include Siddhartha School in your will.
THANK YOU!