Siddhartha Grads Helping Ladakhi Women and Girls, Conduct Workshops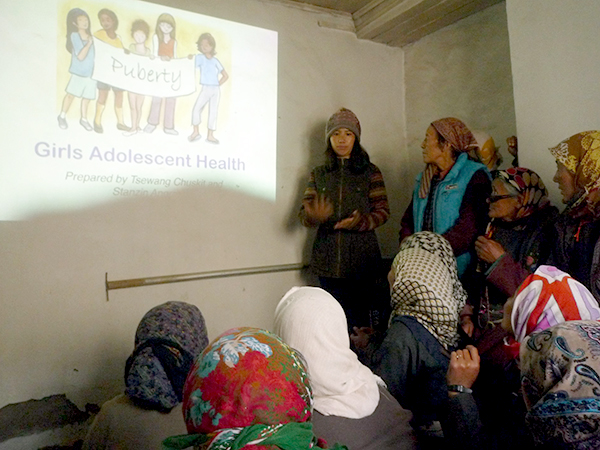 Chuskit and Angmo assisted the Ladakh Heart Foundation's gynaecology camps at Gya, Meeru, and Phey villages in July, presenting information on adolescent health for women and girls. PHOTO: Venerable Gen-ley Chosgyal, Ladakh Heart Foundation.
Siddhartha Grads Helping Ladakhi Women and Girls, Conduct Workshops
Miss Tsewang Chuskit and Miss Stanzin Angmo, our Siddhartha grads currently studying in the US, continued their summer work on Ladakhi girls health education, thanks to the generous support from the New Family Foundation to cover their travel expenses back home. The young women hit the ground running, volunteering first for Siddhartha School and then for the Ladakh Heart Foundation's gynecological camps in Gya, Meeru, and Phey villages.
Chuskit had this to say about the experience:
"I am blessed by the support and kindness that I get from everyone. And it brings me a lot of joy to help a mother who never had a health education about her body. This summer in Ladakh when women listened to our talks they nodded their heads a lot, realizing how important it is to know about their body and how they shouldn't underestimate their health because of work and other responsibilities."
This summer Angmo and I had a great opportunity to work with Ladakh Heart Foundation Campaign for Cervical Cancer Screening. We got to work with other doctors at Gya, Meeru, Phey villages and the Ladakh Heart Foundation Hospital. In Gya Meeru village we had more than one hundred women for treatment, and while doctors were treating them, we were able to give our "Women's Health Education" presentation to groups of fifteen women each time in a small room.
We ended up giving our presentation nine times that day. It wasn't the most comfortable room to give our presentation because of dust, sweat, and getting tried, but it was worth it. I felt happy at the end of every volunteering day by realizing how much we worked hard that day and how much all the women appreciate our time. I think young people my age tend to work hard mostly for grades. I feel lucky to move beyond that concern in the summer months by helping the mothers of Ladakh who needed information about their bodies. Honestly, I can't wait until next summer to do more community service back in Ladakh."
Also, Chuskit and Angmo had several other speaking engagements, including a return visit to the District Institute of Education and Training (DIET). After an encore presentation on how to reach adolescent girls and encourage mother-daughter conversations about puberty, they were asked to expand their talk to touch on teens mental health issues such as anxiety about exams, depression, and suicidal thinking. To responsibly facilitate the conversation, Chuskit and Angmo met with local mental health professionals at Sonam Norbu Memorial Hospital in Leh.
Before Chuskit and Angmo returned to the States in August to start college, they were invited by the Leh District Radio Station to speak on their social work as women's health advocates. Local people called in to praise their efforts to give back to their communities, share their knowledge gained through their international studies, and become positive role models for a new generation of Ladakhi youth.