It's International Women's Day–Hooray!

Meet our young graduate who has boldly stood up for women's rights in Ladakh.

Dear Siddhartha School Project Community, 
My name is Stanzin Angmo, and I'm a proud graduate of Siddhartha School. International Women's Day is important to me because it expresses the solidarity of women while honoring those who have helped progress gender equality and women's empowerment. I'm grateful to them. While much has been accomplished, the day also reminds us of the continued need for work ahead.
"In Ladakh, there remains much inequality still. Women face bias in earning economics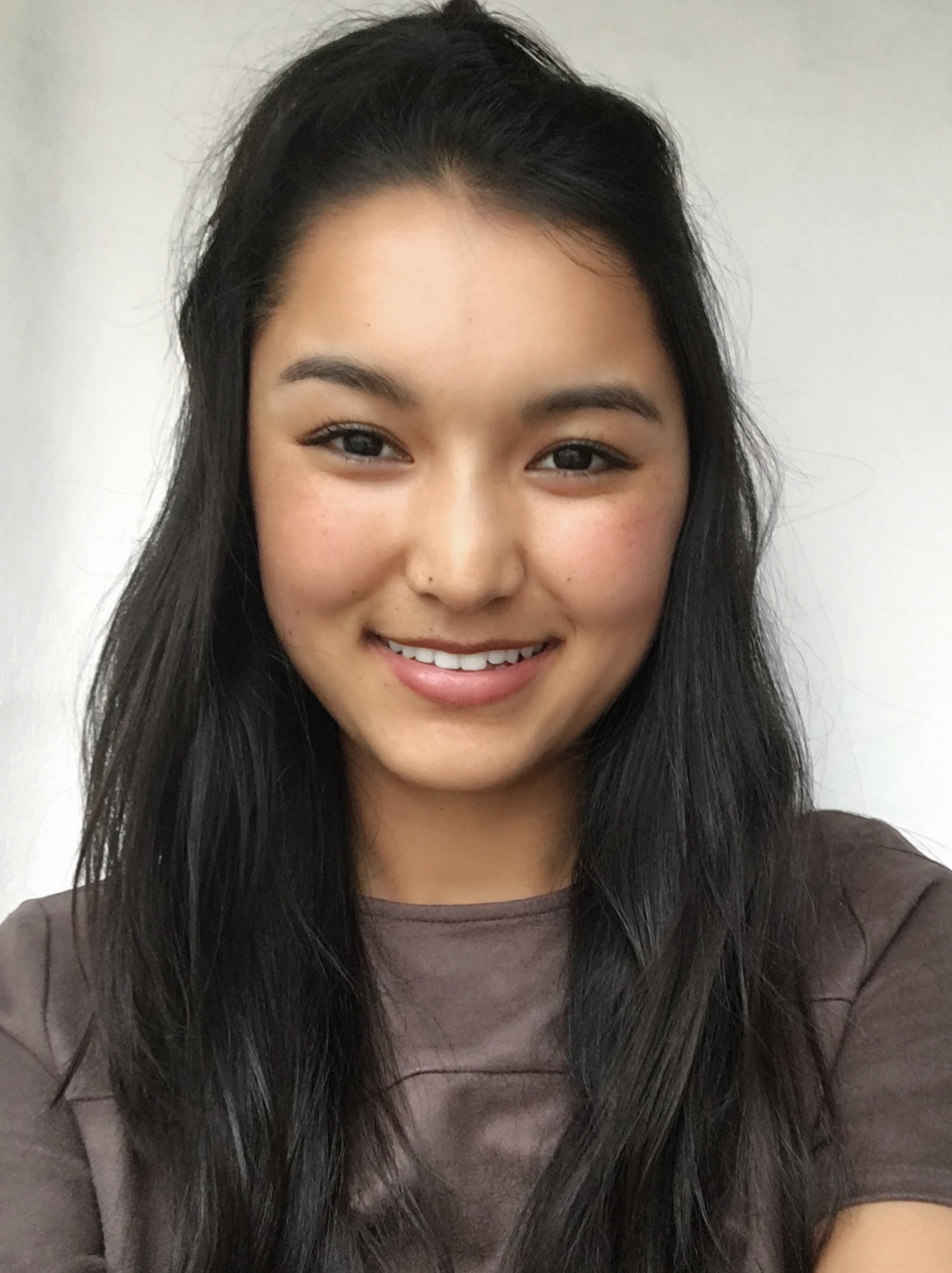 , health-care rights, and access to education, so my hope is to secure women's rights in my country and shape a more tolerant, equitable society in Ladakh."
—Stanzin Angmo,
Siddhartha Alum and Co-Director of New Ladakhi Girls
I've found that following your heart is most important, and I hope all women walk across the boundaries that any society has drawn for you. I'm honored to have had SSP feature my work for International Women's Day and hope you'll enjoy the interview below. It is in large part due to your support for Siddhartha School and my education that graduates like me are pressing for positive change for our Ladakhi sisters, mothers, and daughters.
With love,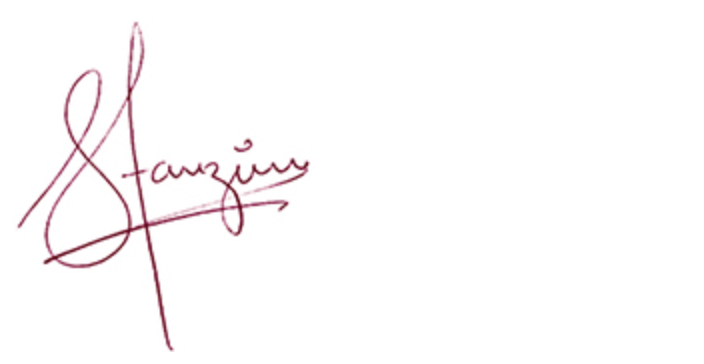 Photos: (above) Siddhartha School alum Stanzin Angmo, co-director of New Ladakhi Girls. (below) Angmo at her high school graduation from Yarmouth Academy, Maine, USA.
For International Women's Day, SSP Honors Alum Stanzin Angmo
A Young Leader Whose Work Is Empowering Women All Over Ladakh.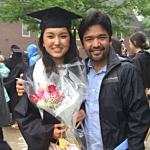 We think it's important that you know about Angmo because she completely embodies the ethics and mission of Siddhartha School. Currently, she is pursuing degrees in anthropology and public health at Bennington College. She took a break to tell us about her latest work, New Ladakhi Girls, which helps the women and girls in her homeland live more empowered lives. —The Editor
In what concrete ways are you working to help this situation for women in Ladakh?
I just completed a fieldwork internship with an Indian NGO (nongovernmental organization) called Eco Femme. They are a women-led organization who make reusable menstrual cloth pads for women that are sold around the globe. The pads are stitched together by rural Indian women, which provides them with income, and with every pad sold, one adolescent girl in India gets a pad for free.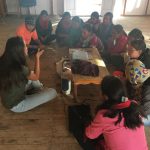 What drew me toward working with them was their education program. They go to different schools in rural India and educate young women about puberty, menstruation, and available resources for their health care. It's very similar to what our organization, New Ladakhi Girls, has been doing for over three years. Also, they acknowledge the pads' pro-environmental impact and educate girls on the effects of disposables versus menstrual cups and cloth pads. I liked that they don't impose on women to switch to cloth pads, but they just give them the options that are available.
Photos: (above) Angmo has spoken at fairs and workshops, and led info sessions with girls on various women's topics. (below) Angmo presenting at a New Ladakhi Girls workshop.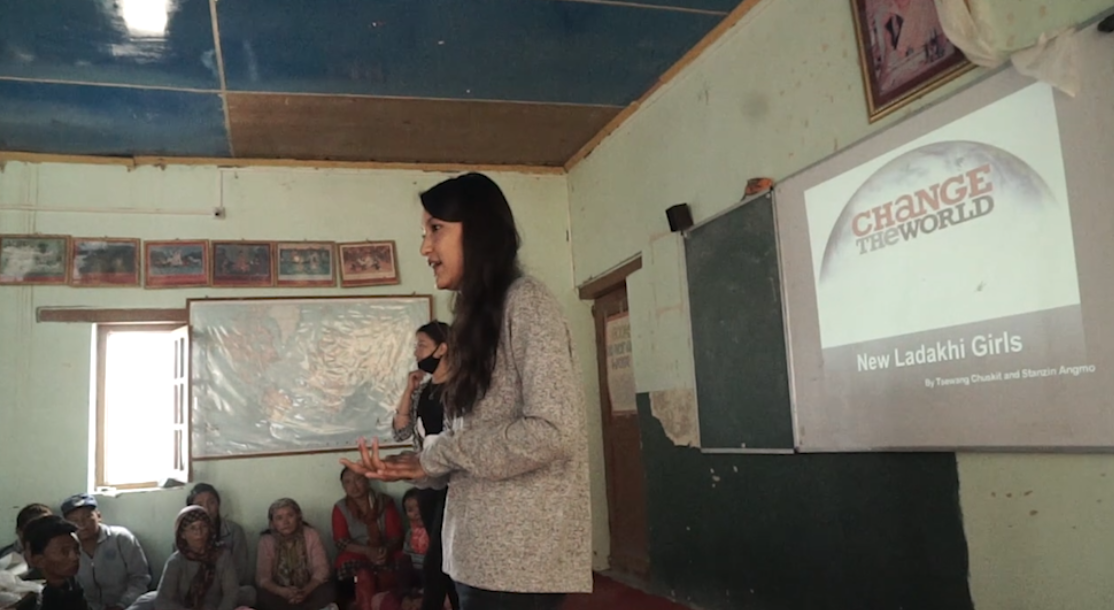 Tell us why you started New Ladakhi Girls (NLG) and how it's going.
NLG is an organization I co-founded with Tsewang Chuskit, my Siddhartha School classmate. My own experience of growing up in Ladakh, I feel women are denied many opportunities and resources. We are told to just appreciate the society we live in. Often, people don't believe we even have gender inequality in the patriarchy. Our goal is to educate women about their health and to empower them to support each other, to take risks, to speak up, to talk openly about their ideas and issues including menstruation, sexual abuse, and violence against women. We encourage them to take initiative in their households and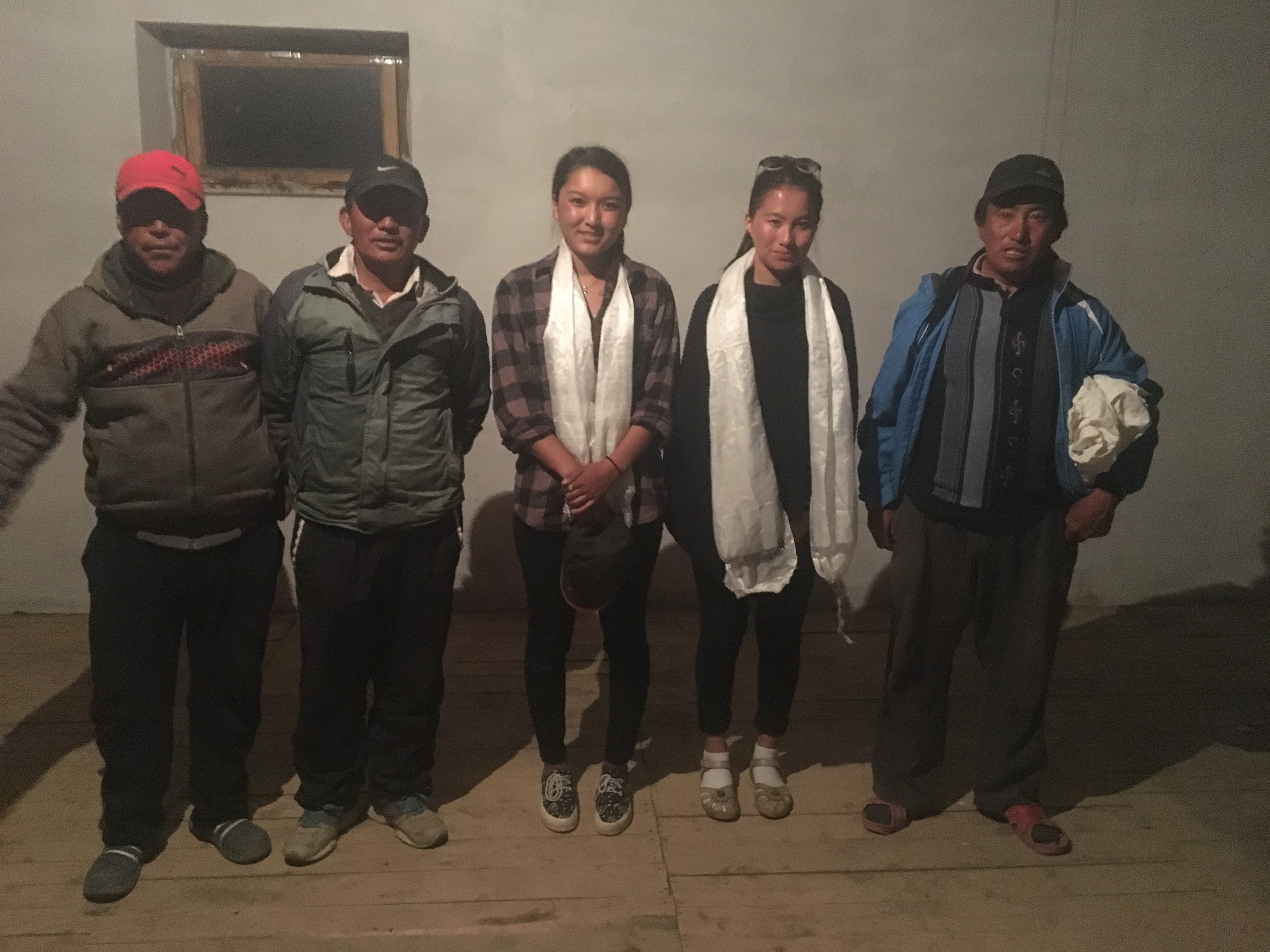 community. NLG was started when Chuskit and I were both teenagers. We've taken action in small, incremental steps, and it's working! We have been invited to speak on women's issues and topics all across Ladakh now, especially in rural areas where some women have never heard of basic health initiatives.
Photos: (above) Angmo and NLG co-founder Chuskit give a presentation on women's health to a packed room full of men and women. (below) Angmo and Chuskit are honored with white scarfs for presenting NLG material at Mudh village in 2017.
You've been in the US studying for more than three years; have there been any changes in your thinking or strategy since you've studied here?
When I first came to the States, I was afraid. I felt weak compared to the Westerners and women here. It took me months to adapt. But listening to their ideas and their perspectives on social issues helps me to understand the world better. I then identified the value these ideas could have in Ladakh and felt compelled to bring them to my local community. To give back with hopes of bringing more freedom to women at home.
Do you have a woman is a role model for you?
My role model is Michelle Obama because she is an outstanding feminist and her work and speeches inspire me to help other women. Plus, she is cool and funny 🙂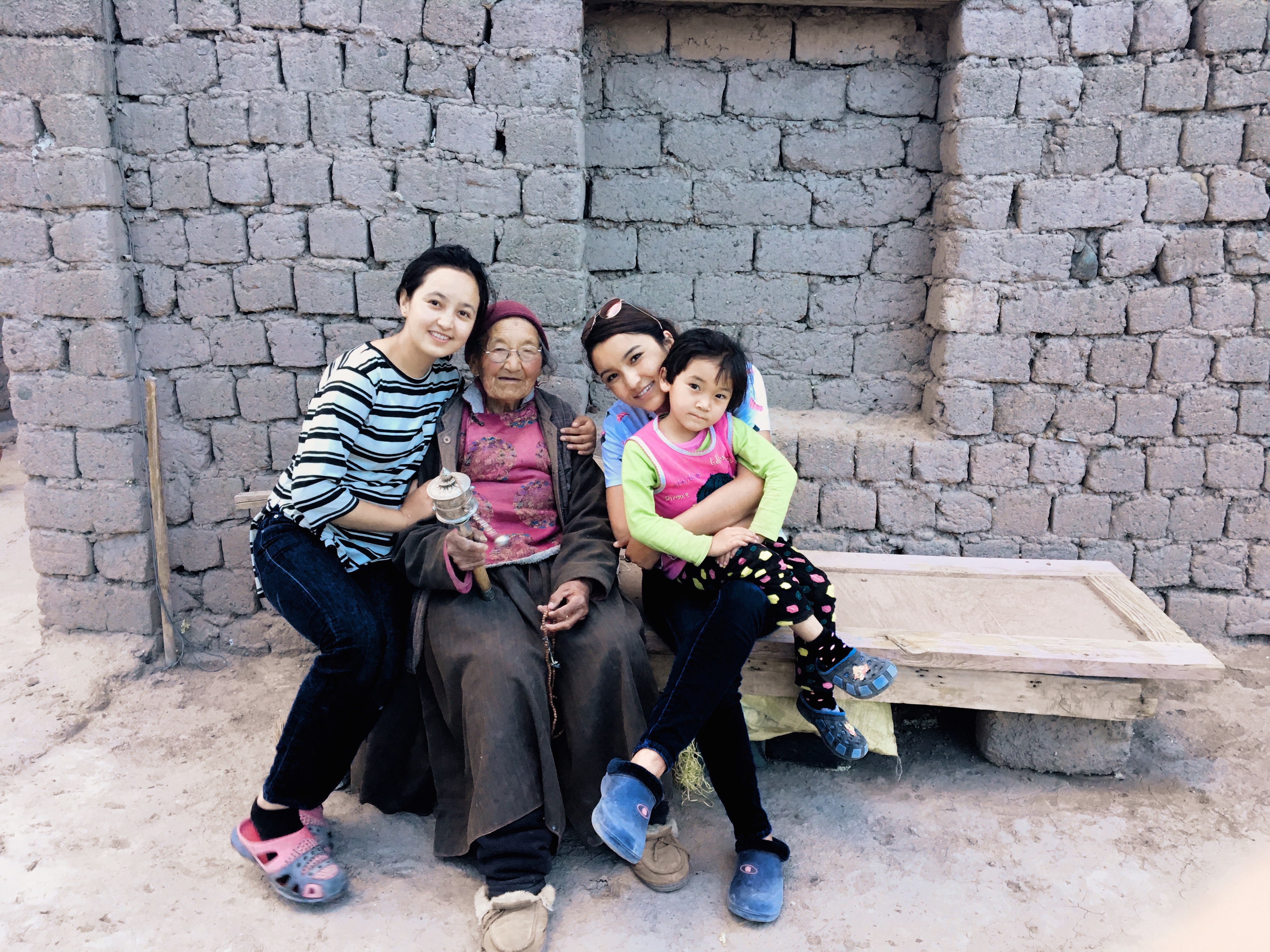 Also, my grandma is one of the most important people in my life. She has taught me to be kind, helpful, selfless, and most importantly to be a good human being.
Photo: (from left to right) Cousin, grandmother, Angmo, and niece.
Thank you for speaking with us, and for being such a powerful example for Ladakh's youth. And thank you to everyone who supports the Siddhartha School. You've given me an incredible education and inspired me to serve my community. ∞
See more of our

Blogs