Khen Rinpoche's March Teachings and Events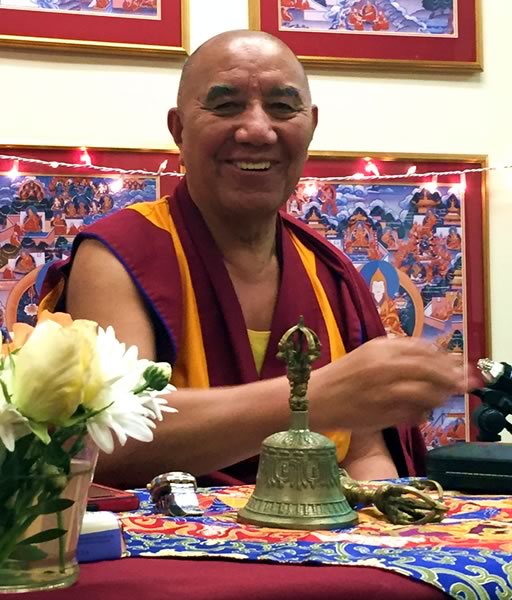 KHEN RINPOCHE'S MARCH EVENTS + TEACHINGS 
Sunday, March 12th – 2-4p, The Desmund-Fish Library, Garrison, NY
Pechas: Tibetan Books in Himalayan Buddhist Tradition
Khen Rinpoche will discuss the pivotal role these sacred Tibetan Buddhist books play in monastic life and speak about the artistic printing process, storage, and their value in contemporary Tibetan education. He will also share about his current project, the reconstruction of the iconic Tashi Lhunpo Library, on Indian soil into exile. This is a free event.
Friday, March 17 – 7-9p, Tibet House US, NYC event +Webcast
The Eight Verses for Training the Mind
Sunday, March 19 – 10:30a-12:30p, Curtis Memorial Library, Maine
The Eight Verses for Training the Mind—A Powerful Practice for Transforming  Difficult Circumstances
Almost one thousand years ago the great Indian teacher Atisha came to Tibet and began giving personal instructions to his Tibetan students. These instructions formed the basis for the Tibetan Mahayana tradition of training the mind called lojong. In these turbulent times, these teachings help us to remain peaceful by keeping us focused on compassion and altruism. Khen Rinpoche will share with us his insight into one of the most famous mind training texts, Langri Thangpa's Eight Verses on Mind Training. Whether you are a beginner or long-time student, listening to these teachings from Rinpoche will help you to take both your hardships and successes into the path and maintain a balanced and joyful state of mind. This event is free.
Sunday, March 26 – 10am-12:30p, Curtis Memorial Library, Maine
Tong-len – The Practice of Taking and Giving
Knowing the importance of altruistic love and compassion for all living beings (Bodhicitta) is crucial. Taking this wisdom to heart and manifesting it in all our affairs can be quite challenging. Fortunately, Tong-len meditation is an amazing tool to help us along the path. Khen Rinpoche will teach us how to take on the suffering of others and give our own happiness to them. It is a powerful way to generate Bodhicitta and, in the process, transform our own minds to be more peaceful, joyous, and free. This event is free.
Wednesday, March 29 – 6pm, Rubin Museum, NYC
Art Walk and Commentary
Join Khen Rinpoche and RMA Curator Elena Pakhoutova for a walk through the main gallery with an eye on pieces connected to Ladakh, Rinpoche's homeland, and the Gelukpa tradition, Rinpoche's monastic lineage. Rinpoche and Elena offer us a chance to enjoy these meaningful works with the benefit of their commentary. This event is free. Space is limited to the first 20 who sign-up and requires an RSVP. Please send an email to: Laura.kozaitis@ourssp.org, with the subject line "Rubin March 29 RSVP." Please include the names of those attending. Thank you.