Meet Our New Bodhi Language Teacher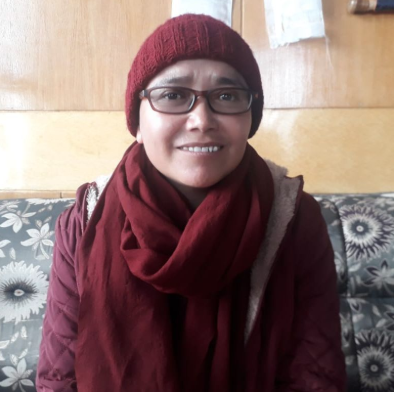 She's a Ladakhi Nun with a Terrific Commitment to Our Students
"Being a simple Buddhist nun, my aim is to share His Holiness's message of compassion to all sentient beings and to help spread the communal harmony, which is really, really important in the present world for the sake of peace."
—Gen Yangchan Dolma
Gen Yangchan Dolma grew up in the small village of Tiagar in Nubra Valley. We are thrilled to welcome her to our Siddhartha family, and we couldn't be happier to have her teaching the traditional Bodhi (classical Tibetan) language to our students. We sat down with her to learn more about her life as a nun and her passion for teaching.
TTW: Why did you become a nun, and where did you take your vows?
Gen: I decided to become a nun, not during my childhood, but when I was 18 years old. It was then I realized about the circle of life [samsara]. I went to the nunnery at the Rizong Monastery and studied the basics of Tibetan Buddhist philosophies there. Then I went to Drepung Loseling Monastery in Mundgod [Karnataka State] for better and higher monastic education. Finally, I went to Central Tibetan University, Sarnath [Varanasi] and accomplished my Shastri degree [equivalent to a bachelor of arts].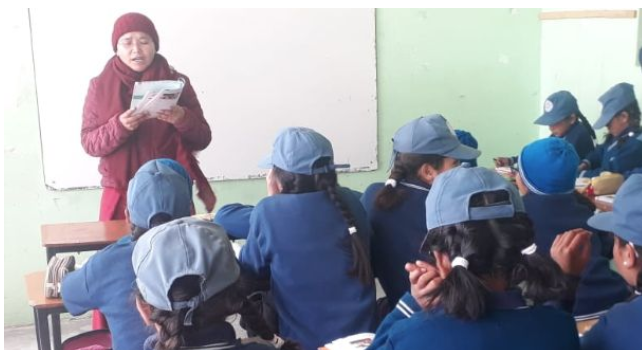 TW: Why did you choose to become a teacher?
Gen: I feel it is a noble profession to teach kids. Before I came to Siddhartha, I also worked in Mahabodhi School in Choglamsar where I taught Bodhi.
TTW: How did you come to work at Siddhartha School?
Gen: To be sincere, I was not looking for a job, but then I heard the advertisement for the post for the Bodhi teacher in between the evening news break and wanted to apply for the post. I am grateful I was selected and happy that it came so easily to me. From what I can tell, it is a special place; the founder and staff are reputable and quite loving. That's important to me.
Siddhartha extends a warm welcome to Yangchan and is grateful for her acceptance of the post.
…warm welcome to Gen Yanchan!