"For as long as space endures and for as long as living beings remain, until then may I too abide to dispel the misery of the world." ― from "A Guide to the Bodhisattva's Way of Life" by the 8th CE master, Shantideva.
This collaborative pencil sketch of the great Ladakhi lama and leader, the 19th incarnation of Bakula Rinpoche was drawn by seventh graders Thundup Namgail and Rigzin Wangchuk along with Kunzang Namgail of tenth grade. Known as "The Architect of Modern Ladakh," Bakula Rinpoche died on November 4, 2003. He was 86. At that moment, it was difficult for Ladakhis to imagine Ladakh without Bakula Rinpoche. Nevertheless, to the delight of many, the identification of a two year old boy, Stanzin Nawang Jigmed Wangchuk from among several children as the reincarnation of Bakula Rinpoche was confirmed by His Holiness the 14th Dalai Lama in 2008.
Dear Friend,
Imagine your favorite teacher growing up. When you think of this person today, you may wonder where they are now—if they are still teaching somewhere. Perhaps they've retired or passed on. They may have inspired you in some way to be a better person and to serve others. Your memory may be all that you have of them now if they are gone.
Buddhist Ladakhis, like our Siddhartha School students, and practitioners the world over, have a unique and powerful tradition that addresses the void left after the loss of a great teacher. By recognizing successive reincarnations, great teachers such as His Holiness the Dalai Lama, the Panchen Lama, and many others are welcomed back by devotees so they may continue where they left off, leading the way to freedom and enlightenment.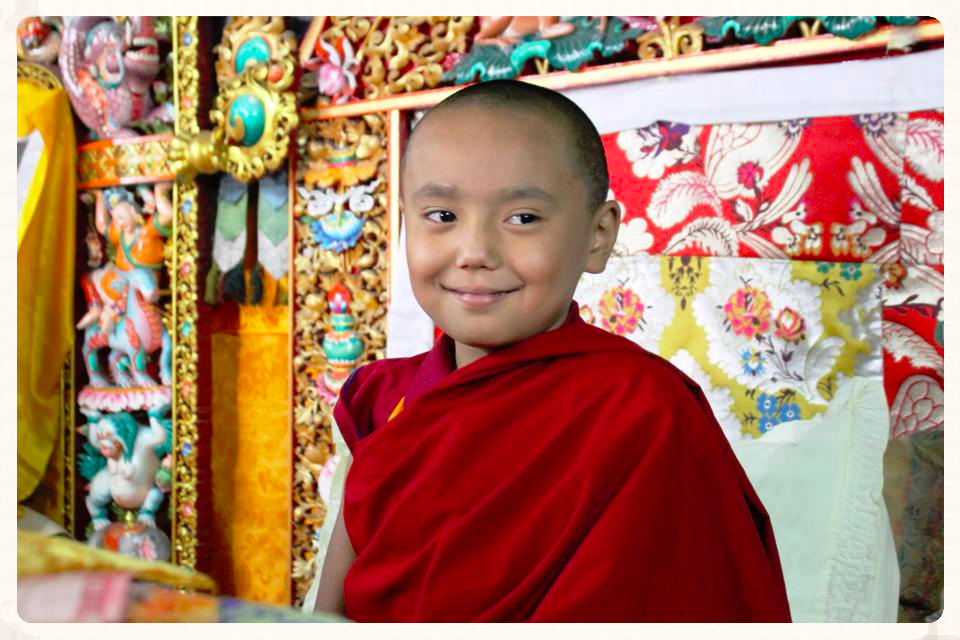 On January 24th, the new incarnation of Bakula Rinpoche celebrated his 10th birthday. Photo from Rinpoche's FaceBook page.
The 19th Rinpoche Bakula was a pivotal figure in Ladakh, not just for his vow to help others in this way, but also for his critical leadership in bringing Ladakhi issues to the Indian parliament and inspiring his own students to take up a more socially engaged role in Ladakh's development.
Born into a noble family of Ladakh, India, he was recognized by the Thirteenth Dalai Lama as a reincarnation of Bakula Arhat – one of the Sixteen Arhats (direct disciples of Shakyamuni Buddha).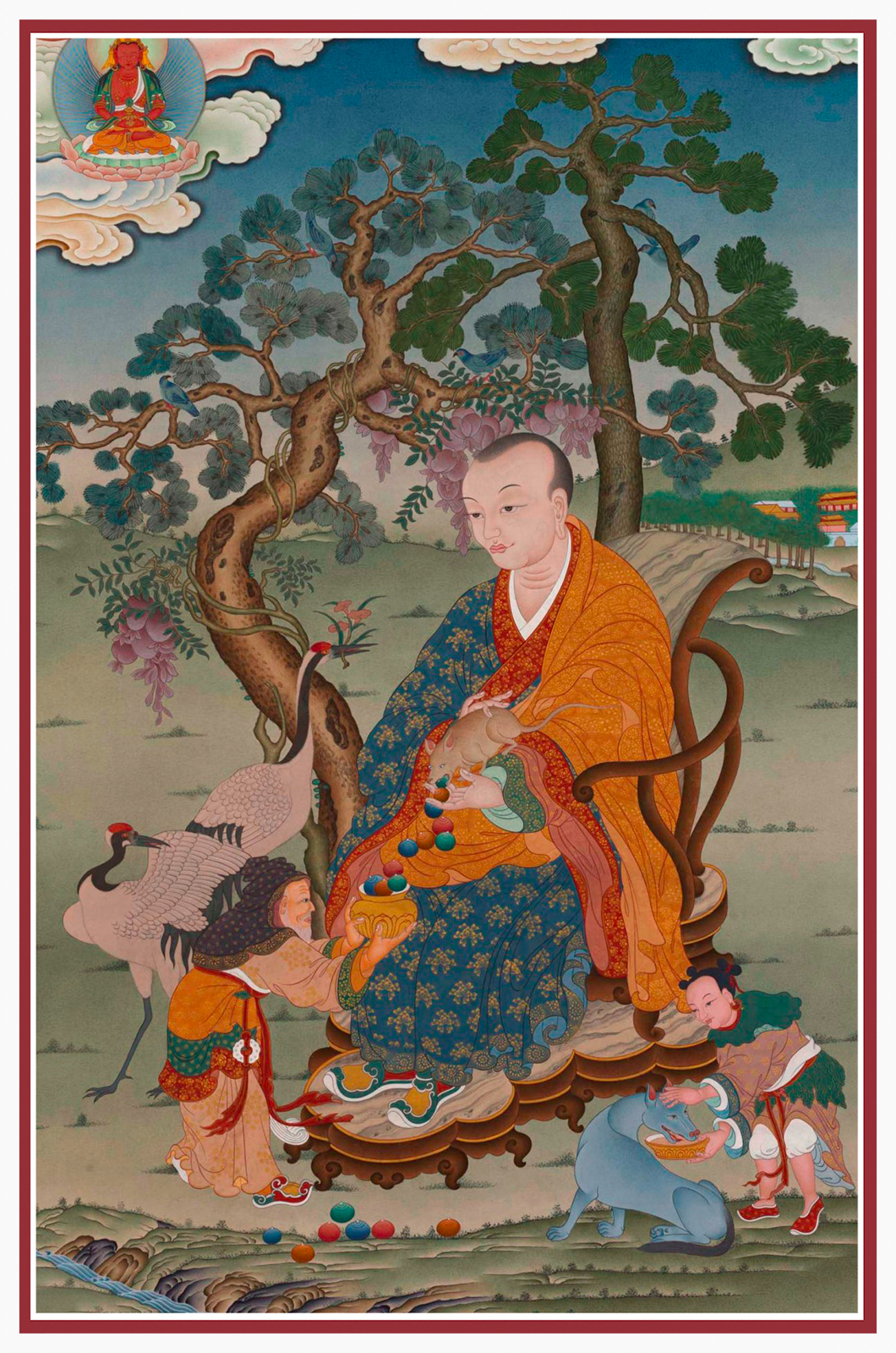 A thangka painting of the Great Arahat Bakula (image, Shambala Art School). The Arahat is usually portrayed holding a mongoose that spits wish fulfilling jewels. Interestingly, when the great 19th Rinpoche Bakula died, the lamas reportedly found a mongoose in the Rinpoche's bedroom chambers at Spituk Monastery (see photo below, from the monastery, 2003). Such creatures are not native to Ladakh at all, and this was seen as a sign of the unbroken lineage of the great teacher.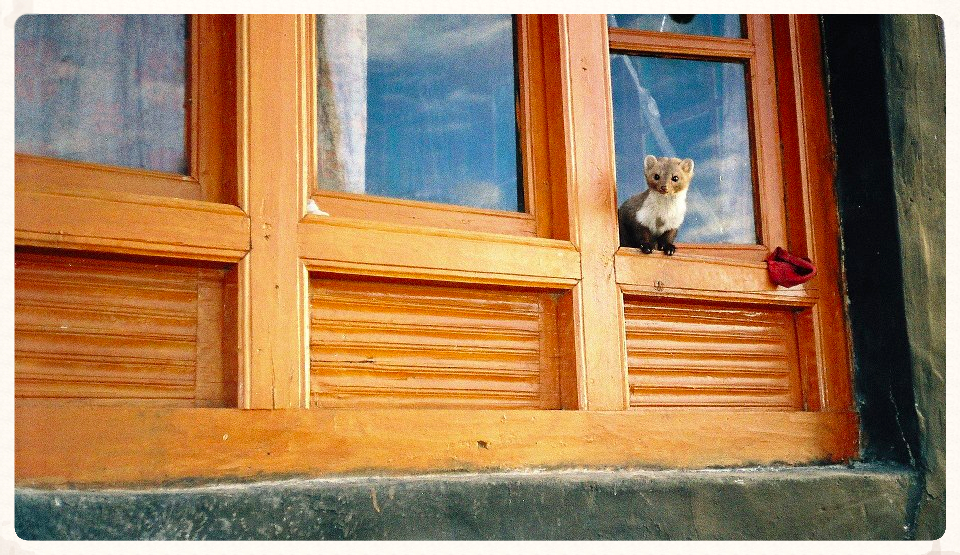 Rinpoche Bakula "was deeply engaged with social welfare and minorities' rights issues from remote places like Ladakh to the vast areas of Scheduled Casts and Tribes in India. His support, enthusiasm and determination played an important role in helping the Ladakhi people sustain their ancient Buddhist religion in the controversial political environment of the State of Jammu and Kashmir. As a man with a great sense of practical reality, he was a guiding spirit for Ladakhi people to develop their way of life through a combination of traditional and modern education." (Phuntsog Wangyal,Tribute to the Venerable Kushok Bakula Rinpoche; Tibet Foundation, London 2003)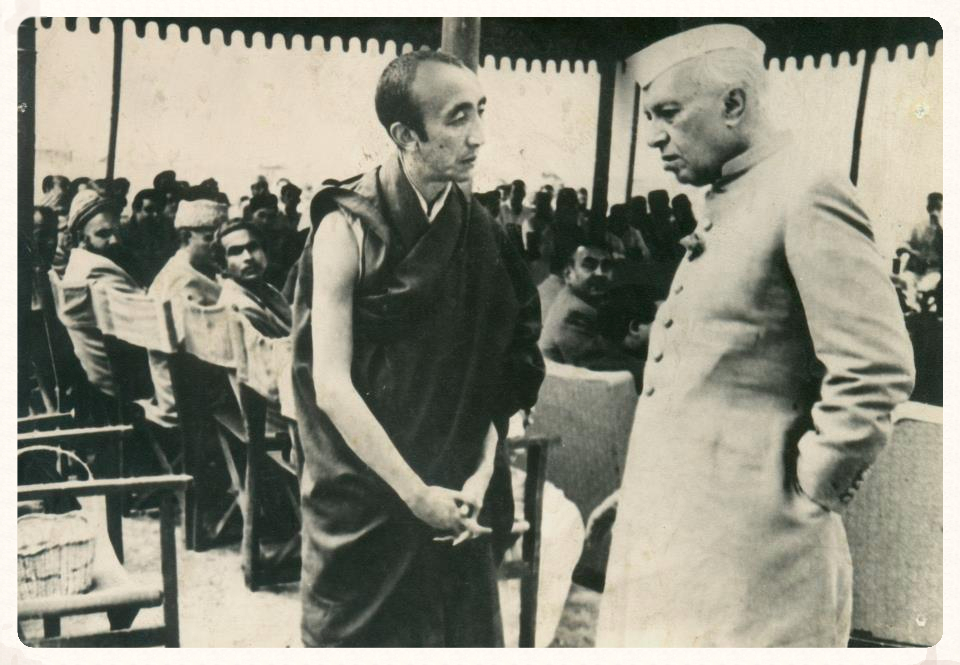 Bakula Rinpoche with Pandit Jawaharlal Nehru. Picture courtesy Central Institute of Buddhist Studies, Leh.
It is his vision for a 'Modern Ladakh' that has deeply influenced and guided Khen Rinpoche, Siddhartha School Project's founder and the school's new director, Geshe Tsewang Dorje. Both monks have been profoundly influenced by Bakula Rinpoche's belief that Ladakhi society can maintain cultural traditions while expanding and exploring ways to educate its youth as a vital part of modern Indian society and the 21st century world.
Bukula Rinpoche has even inspired the popular Ladakhi songwriter Tsewang Phuntsog, who performed and taught music at the Siddhartha School music camp last summer. You can listen and watch Phuntsog perform his song with fellow guitarist Rigzen Norbu after a few seconds of enthusiastic play among young Siddhartha School boys. Click here to watch the performance unfold.
On behalf of the entire Siddhartha School family, we thank you for sharing some of your time to learn more about this week's Siddhartha student hero. Similar to an Arhat who vows to keep coming back until his work is done, loyal supporters like you continue to contribute to educating Ladakh's children and we are immensely grateful for your support.
With deep appreciation,
Laura Kozaitis
Executive Director
Siddhartha School Project
Help us keep tuition affordable for families.
Give to the #OurSSP Annual Fund, or sponsor a child who needs a full tuition scholarship.

To donate by check, please make it payable to the Siddhartha School Project, PO Box 524 • Freeport, ME 04032. To donate by stock or wire transfer, please email Laura Kozaitis for assistance. Thank you so much!
---