Siddhartha Principal Attends SEL: Beyond the IQ Workshop.

Siddhartha School Principal Dechen Wangmo met with like-minded teachers and leaders to advocate for a national Social and Emotional Learning (SEL) Curriculum Policy. Siddhartha School is recognized by education and government leaders as an early adopter of SEL methodology. Principal Dechen was honored and excited to attend the event in Nagpur and meet other Indians who recognize the value of SEL. She traveled by plane and ground to Nagpur for the two-day training.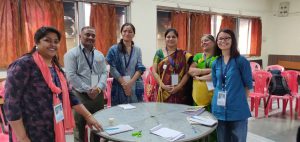 Principal Wangmo said, "I felt it was food for thought for all the participants who were not aware of SEL, and none of us had ever heard of the 'Marshmallow Challenge.' This group activity was based in problem-solving and teamwork." Each group was given 20 spaghetti strands, thread, marshmallows, a blade to cut the thread, tape, and 18 minutes to make the tallest marshmallow tower. The activity encouraged group planning, design, and, most importantly, group consensus at every step. It expertly demonstrated the importance of working together to get through disagreement. Additional teachings included role-playing, which taught empathy and emotional literacy in relationships.
"I am also looking forward to connecting these to teachers with our SEL Committee and am encouraged to work deeply on this with Siddhartha's SEL coach and facilitator, Sophie Langri," says Principal Dechen Wangmo.