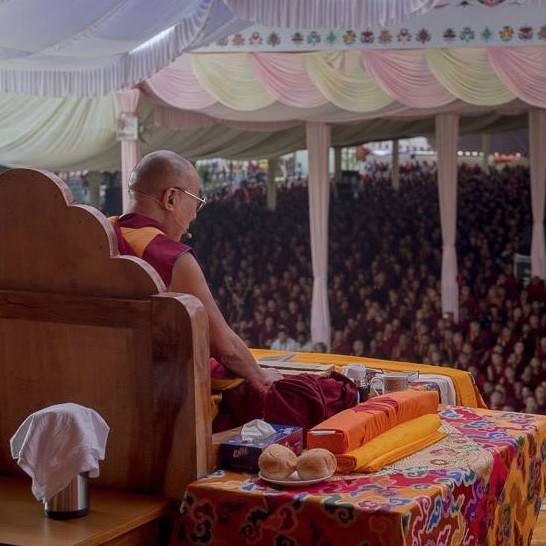 "At present most education is focused on material things, not on the importance of inner values. This is what we need to change. To make this a reality involves incorporating secular ethics, universal values, into education."
-His Holiness the Dalai Lama (photo: Tenzin Choejor)
Social Emotional Learning & Secular Ethics Training for Teachers, Students & Staff
Khen Rinpoche, Siddhartha School's Founder, and Geshe Tsewang, School Director, are honored and pleased to announce a unique pilot program at Siddhartha School. With the help of Dr. Thupten Jinpa, renowned translator for His Holiness the Dalai Lama and author of A Fearless Heart, and Ms. Sophie Langri educator and authority on Social Emotional Learning (SEL) and non-violent communication, the school will develop an SEL and secular ethics program initially for Siddhartha School students.
The goal of this collaboration is to bring compassion based, secular ethics training and social-emotional learning methods to Siddhartha School and adapt them for the Himalayan children we serve. Ms. Langri teaches in Montreal and works with students on self-regulation, mindfulness, and nonviolent communication. She will offer her assistance in helping teachers and students to explore ways to incorporate compassion based learning activities, conflict resolution support, restorative circles, and secular ethics awareness into classroom life. This exciting pilot program will not be a single training session at Siddhartha, but the start of a long-term engagement over the next few years to help our children resolve conflicts and express their emotions peacefully.
You may wonder why a school founded by a Buddhist monk would need such training. As you may recall, His Holiness the Dalai Lama spoke on the importance of such training in schools during last December's teachings at Sera and Tashi Lhunpo. Noting the suffering and violence of contemporary life, His Holiness stressed that peace in our time will only be realized through education that teaches inner values, universal ethics, and compassion based self-awareness.
Khen Rinpoche and Geshe Tsewang agree with an observation made by Dr. Jinpa, that traditionally Tibetan Buddhist young people, at least in the lay communities, are not encouraged to identify or articulate their emotions, or be open about their problems. What is more, lay children do not get the same meditation training that young monks and nuns receive. Dr. Jinpa and Ms. Langri stress that social and emotional learning tools are quite complementary to deep dharma practice.
Mindfulness, social-emotional based learning, and secular ethics are gaining popularity in European and US classrooms. Rinpoche believes Ladakhi children can benefit from such tools as well when adapted in a culturally sensitive and uniquely Himalayan way. As the world becomes smaller and new generations encounter so much in social media, Ladakhi and Tibetan refugee children need to build strong inner lives, personal understanding, and tolerance for a wide range of customs, cultures, and religious views.
Rinpoche and Geshe-la believe that by implementing His Holiness the Dalai Lama's education goals at Siddhartha School with an innovative and cooperative spirit, the core values of the Ladakhi community served will be revitalized and invigorated for 21st-century life.
---