"Childhood means simplicity. Look at the world with the child's eye – it is very beautiful." –Kailash Satyarthi, who shared the 2015 Nobel Peace Prize with Malala Yousafzai.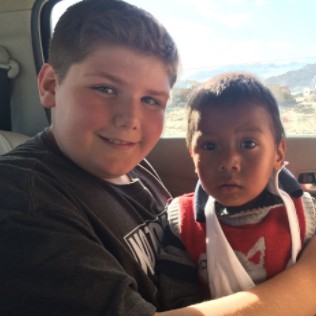 Hi.
My name is George Kozaitis, and I visit the school every year in the summer time with my mom, Laura. Most days after school I go to the Hostel to hang out with my friends, the Ladakhi boys who live at the school because their family homes are too far away.
The boys are great friends. My parents and lots of other adults ask me what I've learned about spending time at the school while my mom is working. I think they are wanting to know if it has changed me or something. The biggest thing I've noticed about being a kid in Ladakh at the school is how happy they all are, even though they don't have even have half of the stuff that me or my American friends have. Kids don't need a lot to be happy…really not so much at all.
Last year mom brought a video camera with her for her work. I was curious and asked to take videos for the school. I'm glad she let me give it a try because me and Tsewang Phuntsog, or T.P. as everyone calls him and I decided we'd take a tour of the school in a video. T.P. is my best friend and we had a lot of fun that day.
(Watch the video George made with his Siddhartha School friend, Tsewang Phuntsok, aka "T.P.", age 12.)
Then I took the video of TP and the rest of the hostel boys singing a traditional Tibetan song. We all ran off afterwards out onto the soccer field, jumping and playing and having the most fun (especially because it took up homework time).
(Watch the boys at the hostel sing a song for George and all our friends back home.)
I hope you enjoy the videos my friends and I made for you, I know they aren't good quality but it wasn't about that.
Thank you for all that you do to make the school such a good place,
George Kozaitis, age 12
"It is good people who make good places."
— Anna Sewell, Black Beauty (TP's favorite book)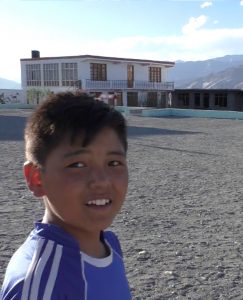 Join T.P.'s sponsor, Allen Baldwin of Maine in helping Siddhartha School provide for all students, regardless of their economic need. Sponsor a child's tuition for less than a dollar a day or make a gift to our Scholarship fund in for any amount.
Our most financially challenged students are sponsored in full through your kind support, and still others depend on our gifts to keep tuition affordable and in line with their incomes. Please give what you can.
---