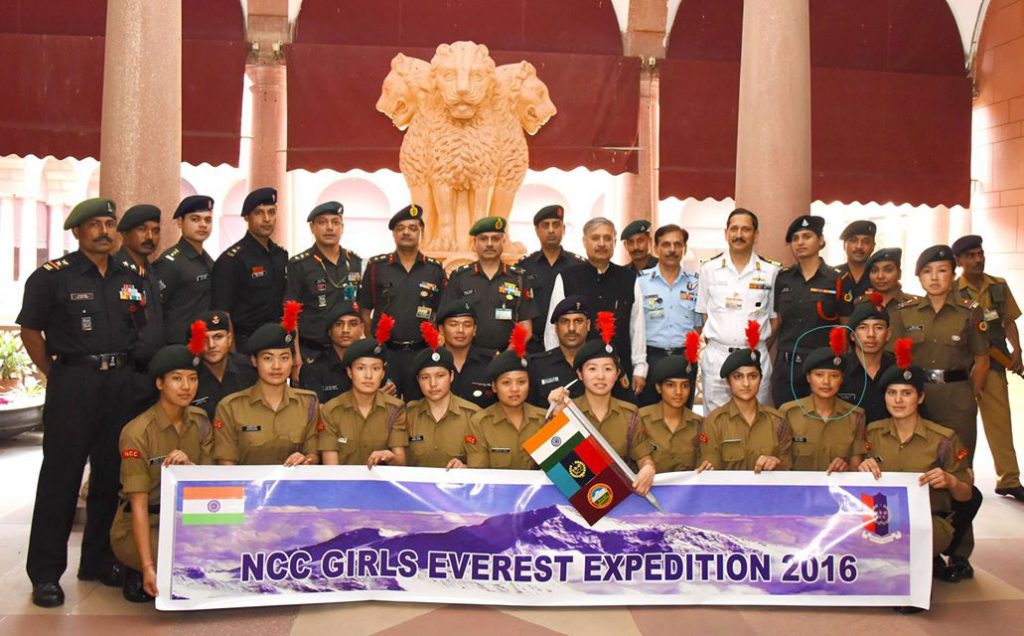 Miss Tashi Laskit is encircled in the picture above with her team before they flagged off on March 16th. Special thanks to Mr. Tsering Angchuk, SSP's US Liason, for providing details.
We are proud to announce that Miss Tashi Laskit, Siddhartha School class of 2011 succeeded climbing Mount Everest! She is the daughter of Tundup Tsering and Stanzin Dolkar (Baopa) of Stik Village and was generously sponsored by SSP supporter Michelle Hero Clark while attending Siddhartha School. It is a great moment for all the Siddhartha family, founder Khen Rinpoche, the people of Stok, the people of Ladakh, Ms. Clark, and of course for her parents.
Khen Rinpoche received word of Laskit's accomplishment as part of the first ever all-girl National Cadet Corps (NCC) Mount Everest expedition just Sunday night, while convalescing from his successful knee replacement surgery earlier this month. Khen Rinpoche told us:
"I am inspired by dear Tashi Laskit's history-making accomplishment and find her drive to reach the top of the highest mountain in the world truly inspiring. Just as His Holiness the Dalai Lama tells us never to give up, Laskit shows all of us that we can do great things with perseverance and discipline."
Details are just emerging on this exciting story. For now, we know that Laskit was one of five girls in the NCC team to reach the top on May 21st and that this elite group was the first all-girl expedition team to make the ascent. We will share what we learn about her achievement as details come in.
We recall the Siddhartha School Motto and salute Miss Tashi Laskit for making her school proud:
"Our ambitions are higher.
Our commitments are deeper.
Our dreams are bigger.
Our efforts are greater."
Help students like Tashi Laskit fulfill their dreams. Sponsor a Siddhartha School student in need for less than a dollar a day. You will be amazed by how far they can go with your kind support.
---