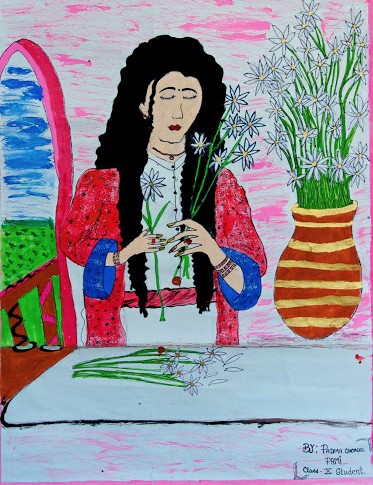 Dear Friends,
I'm delighted to share the work of Siddhartha School students and graduates in celebration of International Women's Day. The painting at the right by a Siddhartha student who looks up to her sister as a personal hero, even though this sister is away for most of the year studying in Jammu for college. Her painting reminds us to remember those women in our own lives who are strong, independent, and willing to step off traditional paths and onto new terrain.
We hope you enjoy hearing from our girls about their work to raise awareness about their lives and who inspires them to aim high and never give up. We celebrate women and girls in Ladakh and abroad who do so much for the Siddhartha School community. As mothers, sponsors, sisters, teachers, and friends, by helping our girls realize their full potential we are all uplifted.
With deep appreciation,
Laura Kozaitis
Executive Director
Siddhartha School Project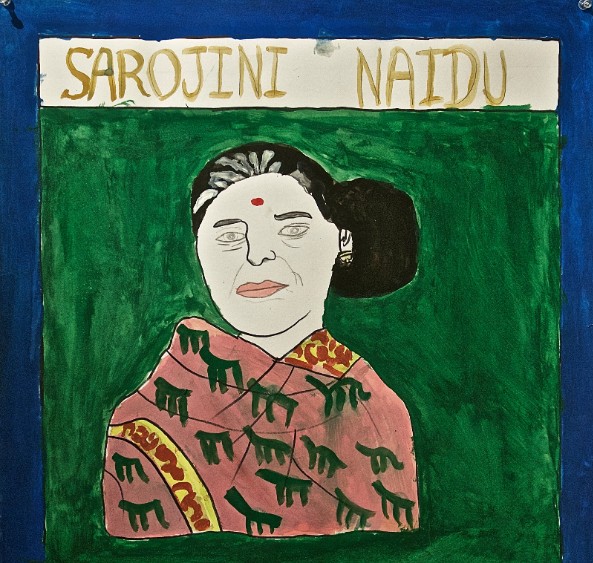 Painting and article By Stanzin Palmo, Tsewang Dolma, and Ishey Dolma, girls in the 9th grade at Siddhartha School.
Students and Graduates Celebrate International Women's Day
For International Women's Day, we have many women we remember and honor, from our mothers, grandmothers, sisters and aunts, to our women leaders in Ladakh and India.
For the Hero Project, we have many portraits of these women we look up to, but we thought we would share with you a most famous one for us, so crucial to our national history and Indian democracy.
We painted a portrait of Sarojini Naidu, because she was the first Indian woman President of the National Congress. She was a very kind and great woman.
In Madras University she started writing poetry. She fought for the rights of women and worked for the independence of India.
When India became free, she was appointed the first governor of Uttar Pradesh in 1947.
Here is one of our favorite, famous poems by her:
LIFE
CHILDREN, ye have not lived, to you it seems
Life is a lovely stalactite of dreams,
Or carnival of careless joys that leap
About your hearts like billows on the deep
In flames of amber and of amethyst.
Children, ye have not lived, ye but exist
Till some resistless hour shall rise and move
Your hearts to wake and hunger after love,
And thirst with passionate longing for the things
That burn your brows with blood-red sufferings.
Till ye have battled with great grief and fears,
And borne the conflict of dream-shattering years,
Wounded with fierce desire and worn with strife,
Children, ye have not lived: for this is life.
Written by: Sarojini Naidu
---