"I find the tiger to be a self independent animal. I would like to be a self independent being, so I find similarities between my desire and the strength of a tiger. But as all beings want the reassurance that their parents love is unconditional and forever, so I see the mother tiger as my hero because she is powerful and loving." Stanzin Namgyal, Class 7.
Dear Friend,
When we first asked Siddhartha School students to draw portraits of their heroes, we expected to get drawings of famous people-social activists, political leaders, cultural icons-as well as beloved family members.
What a surprise it was to get portraits of animals from some of our students! We had not expected the children would have such appreciation for the qualities of another species that they would choose to make them their heroes.
In fact, we have received gorgeous drawings and essays from our students that demonstrate a deep connection with all types of animals–be they wild (like the mother tiger above) or domestic (a horse named Lizzie, painting below).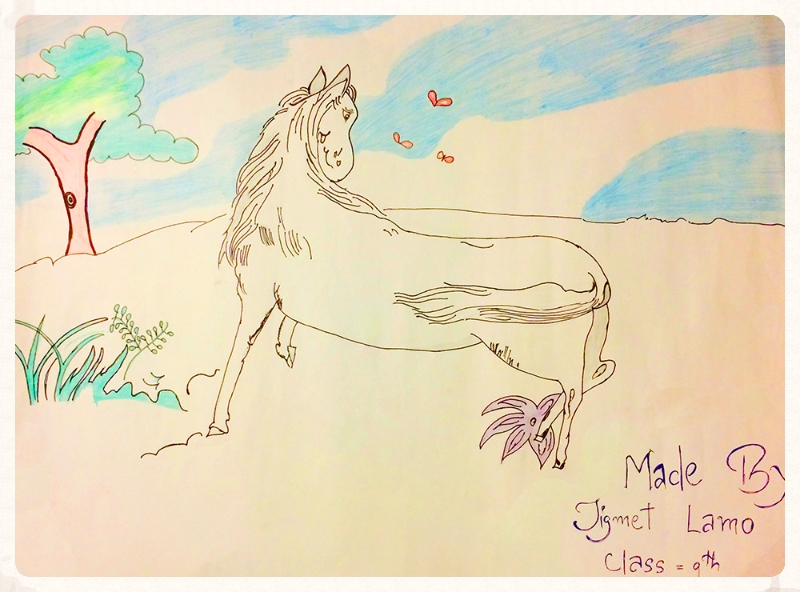 "My hero is the horse because in ancient times the horse was famous with kings and nobles. Horses are also used for transportation in remote areas. In ancient times the horses were also used in wars and contests. The horse is a helpful animal even today. My hero is the horse because my best friend is a horse. She is such an amicable and the kindest animal I have ever met.I have spent my childhood with her. I like her shiny skin and fur. She jumps and gallops when I ride her. She obeys my commands all the time, so my hero is my horse Lizzie." – Jigmet Lhamo, Class 9
Love and respect for all animals…it's a beautiful thing to consider, especially from within the Buddhist context that has helped shape the world view of so many of our students. From this Buddhist point of view, all beings have reincarnated endless times, having been animals, people, even gods. And from this perspective, all beings-animal, human, insect-have been our mothers, caring for us and protecting us.
The tiger drawing above also echoes another Buddhist story, the Jataka tale of a starving mother tiger found in the forest by the Buddha when he was a Prince. The desperation of the mother touched his heart, he knew she was faced with a horrifying predicament, to eat her young and live, or let the whole feline family die. He fed himself the tigress so she could live and nurse her young.
Recognizing great compassion for the suffering of another does not distinguish or discriminate by species, Siddhartha School students like Stanzin Namgyal are making wonderful connections between traditional stories of great compassion and a contemporary quest for self sufficiency in the midst of rapid economic development, which poses great threats to Ladakh's wildlife. Snow leopards, bears, ibex, and many other marvelous creatures are threatened by the diminishing resources brought on by rapid changes in economy.
Armed with traditional stories of Buddha's great compassion and contemporary knowledge of environmental impacts, it will be interesting to see how our students' love and respect for animals will manifest into adulthood. We hope they will lead of Ladakh through such great ecological challenges, and are pleased to work with other NGOs such as the Snow Leopard Conservancy India Trust, which recently conducted classes for our students on the unique wildlife of Ladakh (photos below).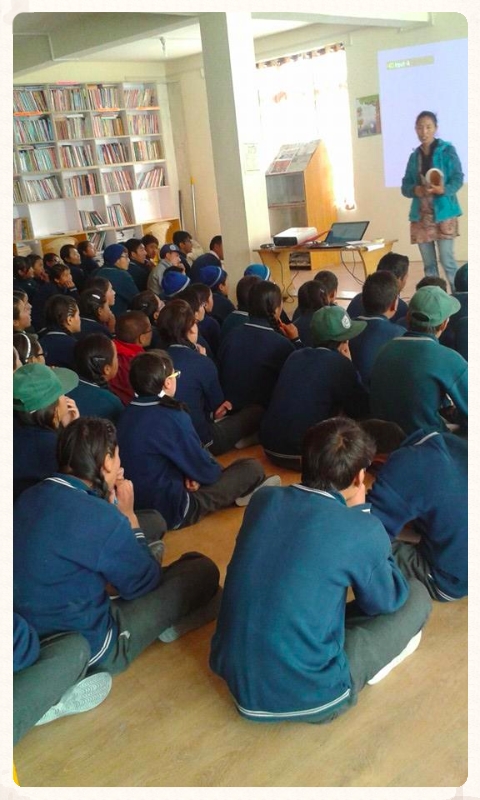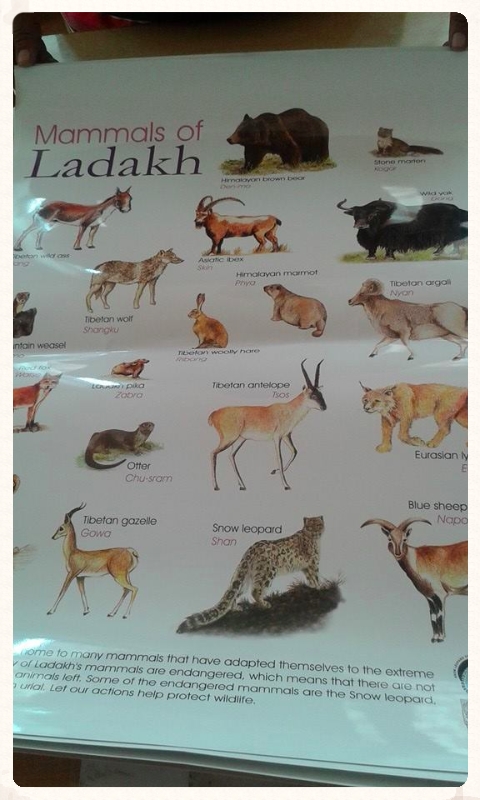 Through your continued support, Siddhartha School is providing a rich experience for students like Jigmet Lhamo to explore how their love for animals and the qualities they admire in them will manifest in their own leadership of Ladakh in the years to come.
We hope you enjoyed this installment of artwork and contemplation by the children on their four legged heroes. We wish you a wonderful week ahead, filled with kindness and the power to make brave choices.
Appreciatively,
Laura Kozaitis
Executive Director
Siddhartha School Project

Siddhartha School Project is Gearing Up for #GIVINGTUESDAY.
What is #GivingTuesday? A daylong national effort on Tuesday, December 2 to help charities raise money online during the holiday shopping season. It can really make a difference. Last year, the first Giving Tuesday drew donations to about 2,600 nonprofits.
How can you help Siddhartha School Project prepare for the big day? Consider becoming a social media ambassador for Siddhartha School Project's campaign. We are looking for volunteers who use Facebook and Twitter to help us get the word out about a very special campaign to support the Siddhartha School. Please email Laura for details.
---