Dear Friends,
We are delighted to share the good news that Khen Rinpoche's surgeon, Dr. Rick Meinig, reports that Rinpoche's knee replacement "went perfectly" and that they have checked the mobility range of the new knee and find it to already to be much better than normal for this stage.
Geshe Tsewang, our school director, has kept in constant communication with Rinpoche's family, Tashi Lhunpo Monastery, and the Siddhartha School. Everyone in India is overjoyed with the news, and will continue to pray for him as the next few weeks will be challenging.
Rigorous physical therapy is required to help Rinpoche achieve his goal of sitting cross-legged at the feet of His Holiness the Dalai Lama, when he returns to Ladakh later this summer. Geshe-la also reports that the Stok, Thiksey and Spituk Monasteries in Ladakh will continue prayers to eliminate any obstacle to his full recovery.
On behalf of Siddhartha School, Geshe Tsewang, all of Khen Rinpoche's supporters, and the entire Tsenela family back in Ladakh, we are so grateful to Dr. Rick Meinig, not only for offering his services for the knee replacement, but for moving mountains to arrange for all other facets of Rinpoche's medical care and hospital stay to be free of charge! We feel tremendously grateful to him and to Dr. John Taylor, Rinpoche's anesthesiologist, who did a wonderful job keeping Rinpoche breathing and comfortable. Rinpoche has also commented several times on how kind everyone at the hospital has been. We would like to express great appreciation to his nurses: Pam, Valerie, Terri, Gwen, and John, as well as everyone in the OR.
What is more, SSP is forever grateful to the Colorado community that is caring for Khen Rinpoche during this critical time, most notably, Natalie Morris for being by his side, handling all his personal needs from his arrival in Colorado Springs through his rehabilitation, and to David Gardiner and Elaine Horton for starting and sustaining the Colorado plans for Rinpoche's procedure and after care.
Finally, we offer profound gratitude to the very generous donors who are providing for additional expenses throughout Rinpoche's recovery.
As Rinpoche has told me before, whatever your spiritual orientation, he appreciates all the prayers and good wishes for his health, and he sends his love and gratitude to you for your continued support.
With deep appreciation,
Laura Kozaitis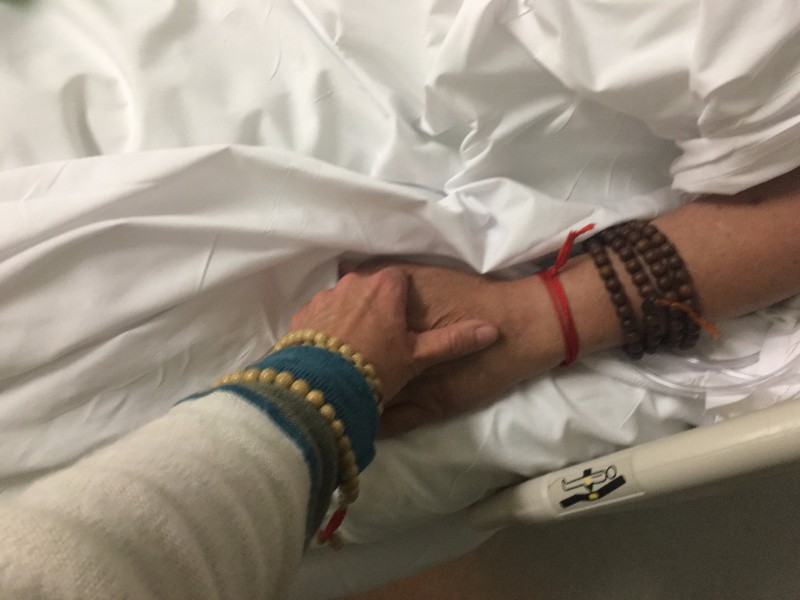 Natalie Morris, Rinpoche's host in Colorado, holding his hand in post-op. He was allowed to wear his mala in the OR.
---