Listen to Khen Rinpoche tell a recent Siddhartha School graduate a story about why he started Siddhartha School.
Dear Friend,
This week's hero is selected by Tsewang Chuskit, Siddhartha School graduate now on scholarship at the Rockland Country Day School in Congers, NY. She is the first girl from Ladakh to get an education visa and scholarship to a US high school, an accomplishment she recognizes would not have been possible without the tireless work of Siddhartha School's founder, Khen Rinpoche.
Chuskit thanked Rinpoche at our home over the weekend and asked him if he could recall a specific moment in his life that gave him the idea to start Siddhartha School. You can listen him share his story in this very short video clip below. He tells her about his start as a public school teacher without supplies for his outdoor classroom, or even a mat for the children to sit on.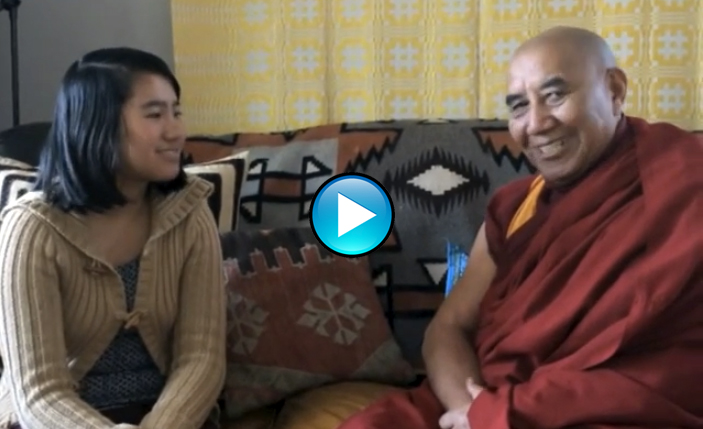 Tsewang Chuskit interviews her mentor and hero, Khen Rinpoche, founder of the Siddhartha School. Click on the photo to watch listen to him share a story about why he started the school.
Rinpoche's 'story of the sticks' reminds us that no matter how little we have, we can always find something to give. What's important is that it comes from the heart.
It's a valuable lesson for young people like Chuskit and a touching reminder to those of us who have so much to be thankful for this holiday. No matter our current situation, we can always start with simple gifts to help others and improve our communities.
On behalf of Khen Rinpoche, Chuskit, and the rest of the Siddhartha School children, I want to thank you for making Siddhartha School a philanthropic priority. Your heartfelt gifts are dearly appreciated by the children and make a tremendous impact on their experience and future opportunities.
Wishing you a joyous and bountiful Thanksgiving holiday,
Laura Kozaitis
Executive Director
Siddhartha School Project
Way better than Black Friday or Cyber Monday,
#GivingTuesday is a Day of Giving Back – December 2nd.
We hope you'll join the #OurSSP #GivingTuesday Event to kick off the Siddhartha School Project Annual Campaign.
This year our goal is to raise $48,000 for boys and girls washrooms and a school kitchen — critical improvements that build on our success in pumping and piping water to the school last year!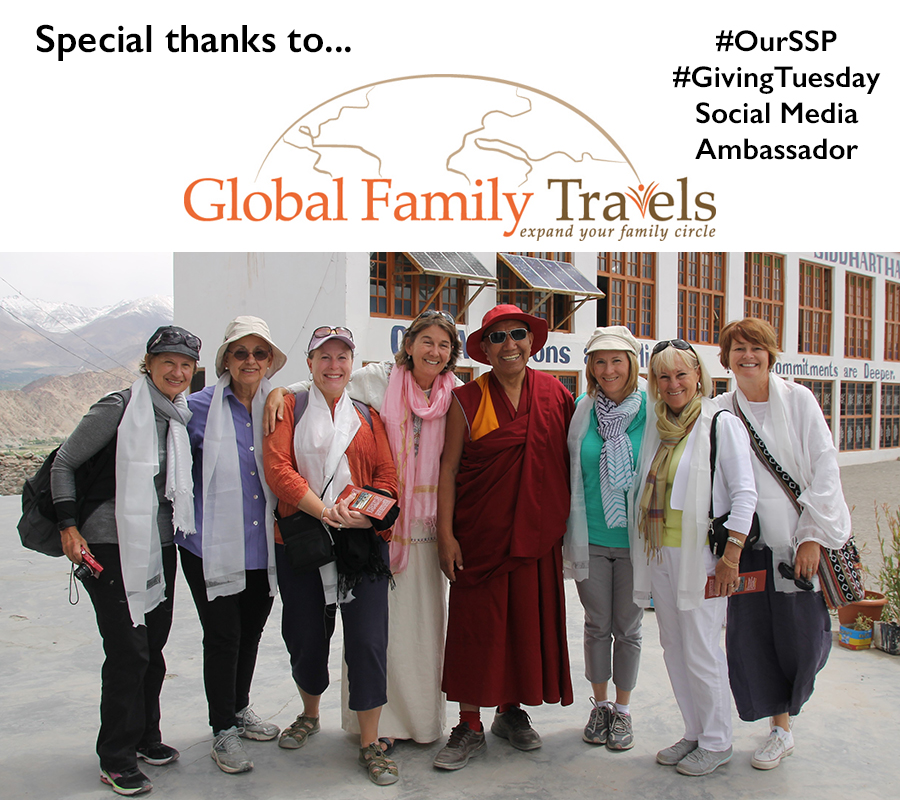 Global Family Travels, longtime supporter of the Siddhartha School Project (SSP), is helping us get the word out for the #OurSSP #GivingTuesday Campaign. Global Family Travels' mission is to 'Learn, Serve and Immerse,' using travel as a means to build cultural bridges and to foster global citizens. In partnership with community-based organizations, such as SSP, Global Family Travels (GFT) offers service learning tours for families which include a unique mix of cultural and educational activities, homestays and participation in local service projects aimed at improving the lives of people in the communities they visit. We are grateful to GFT for all that they do to share Siddhartha School with their clients and the lasting friendships fostered through their service. Learn more about GFT's next tour of Ladakh here.
---