Ladakh's #GIVINGTUESDAY Festival and Report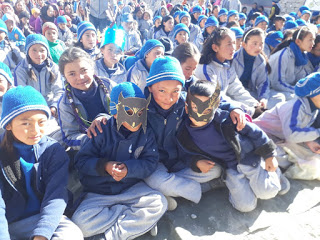 [vc_row][vc_column][vc_column_text]Siddhartha School Project's #GivingTuesday campaign was a great success in the States, but did you know that our community in Ladakh had an amazing
#GivingTuesday
campaign as well?!
We are so inspired by what the Siddhartha School staff, families and local community did to support the #GivingTuesday Matching Gift Campaign. Mr. Tsering Angchuk, our US liaison, and coordinator, and Ms. Dechen Wangmo, the school principal, worked very hard coordinating a "Thanksgiving Mela" festival to raise money while the matching gift from our exceptionally generous benefactors was in effect.
Hosted at the school, the festival was a huge success, thanks to the many volunteers, teachers, and staff who set it up, and the many local friends and families who came out to show their support for SSP and enjoy the day.
The community raised 1 lakh 82,295 rupees—US$2,605, for a grand total of US$5,210 for SSP's #GivingTuesday campaign for the school!!
Always resourceful and inventive, the students made beautiful, upcycled crafts from castaway packaging and sold them in a pop-up boutique in the courtyard. Led by Siddhartha's new monk, Genley Rigzen, a young, talented, and very creative addition to the loving residential staff, students also ran a raffle with four different prizes, as you'll see in the photo with the yellow folded papers. They also hosted games, like musical chairs and 'can break,' and ran food stalls with delicious Indian and Chinese food, as well as a "tea stall."
Tsering Angchuk told us: "Students, parents, and other people enjoyed their best. We had Ladakhi dances, Bollywood dances, Ladakhi songs, and Bollywood songs by the students. We invited the head of Stok Village and other community leaders. Many of them were present. We are especially grateful to the Army Ordnance Corps (AOC) for their free-of-cost logistics and lovely canopies! They also helped us last year too, and they are always there to help us. JAI HIND Indian Army!"
The students, staff, and community in Ladakh are so very grateful for YOUR continued support.
Jullay!
PS: Did you miss #GivingTuesday and wanted to make a gift? You still can! We super excited to share that we've set a STRETCH GOAL to provide much-needed uniforms, books, hot meals, and school supplies for all our scholarship children. Click here to make your gift to help the school provide these necessities to our most vulnerable children. 

Featured photo:
Students enjoying the "Thanksgiving Mela" to raise funds within the local community for the SSP Scholarship Fund[/vc_column_text][/vc_column][/vc_row][vc_row][vc_column][vc_gallery type="flexslider_slide" interval="3″ images="2609,2608,2607,2606,2605,2604,2603″ img_size="full" css_animation="fadeIn"][/vc_column][/vc_row]