Remembering the Panchen Lama's Birthday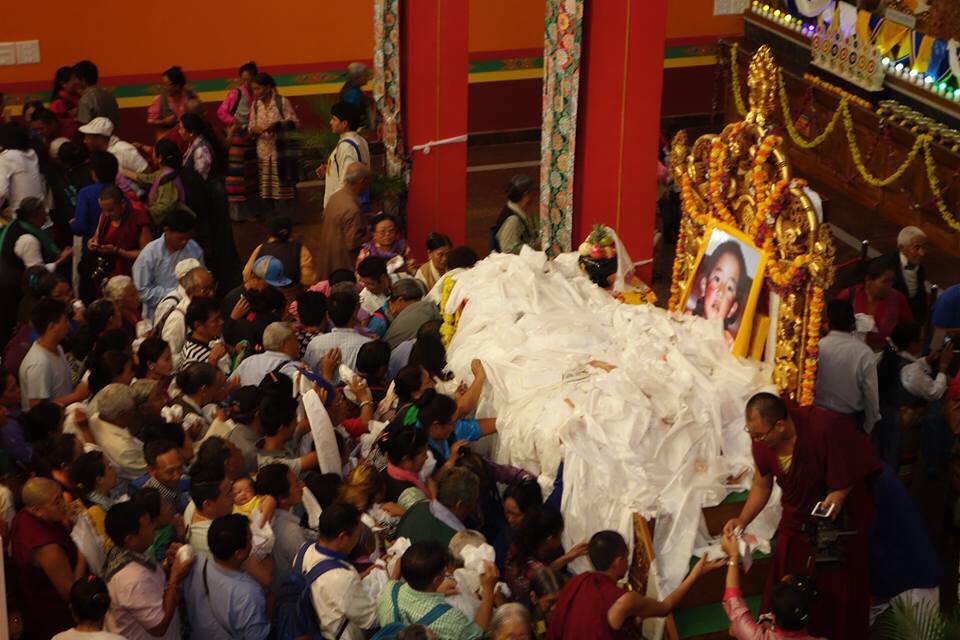 Siddhartha School's Connection to the Panchen Lama:
Appointed in 2005 by His Holiness the Dalai Lama, Siddhartha School's founder Khen Rinpoche Lobzang Tsetan holds the Abbotship for His Holiness the Panchen Lama's monastery, Tashi Lhunpo. The current Panchen Lama is often described as the world's youngest political prisoner. The Dalai Lama and the Panchen Lama are often described as 'the sun and the moon' of Tibetan Buddhist leadership and select each other's reincarnation.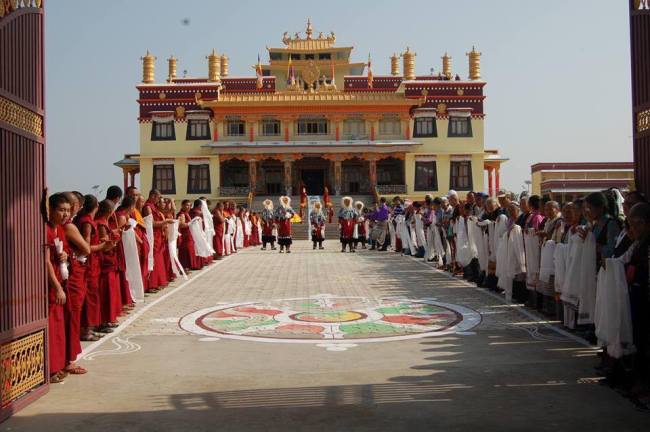 Photo: (above) Tashi Lhunpo's main prayer hall was the site for the commemoration of H.H. Panchen Lama's birthday and prayers for his swift release and return. The new building was completed in exile Dec 2015. Khen Rinpoche, Abbot of Tashi Lhunpo and Siddhartha School founder, oversaw the new temple's funding and design.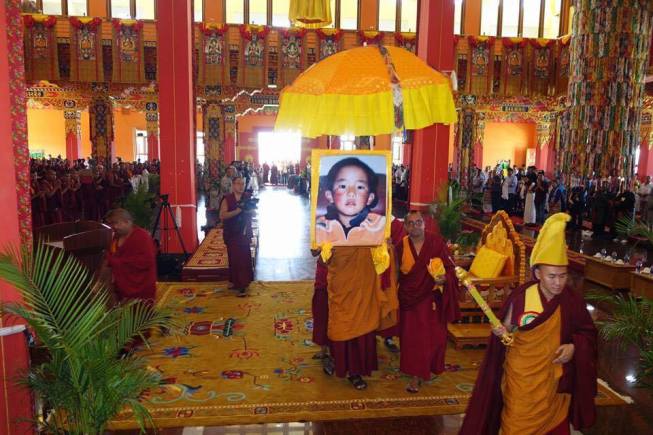 Photo: (above) Inside Tashi Lhunpo's main prayer hall, a portrait of the Panchen Lama is carried to the throne.
April 25, 2017 is the 28th birthday of the 11th Panchen Lama Gedhun Choekyi Nyima, one of the most important spiritual leaders of Tibet, who disappeared into the custody of the Chinese government 17 years ago.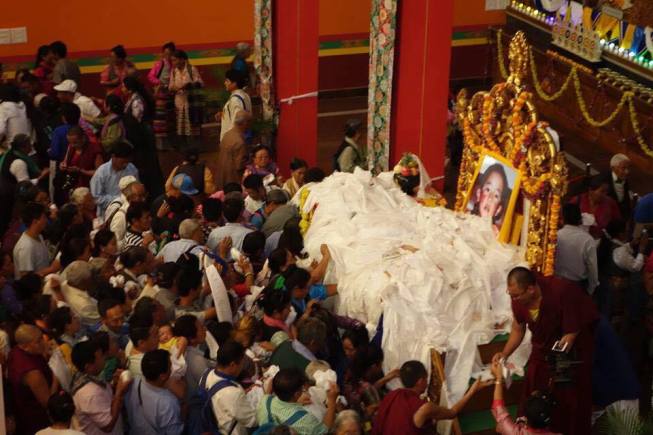 Photo: (above) International crowds of monastics and lay people offer katas, traditional white offering scarfs.
Excerpt from HonorPanchenLama.org:
"On May 14, 1995, His Holiness the 14th Dalai Lama announced the then six-year-old Gedhun Choekyi Nyima as the incarnation of the 10th Panchen Lama. Three days later, on May 17, 1995, the Chinese government secretly abducted the six-year-old boy and his parents who remain 'disappeared' to this day. There is no confirmed information on their well-being or if they are still alive.
[Even after 22 years], no one – save the Chinese government – can confirm with reliable accuracy the current whereabouts and condition of the 11th Panchen Lama and his parents. Despite repeated interventions from the representatives of the United Nations Human Rights Council, UN Working Group on Enforced and Involuntary Disappearance, and other governmental and non-governmental organizations calling on China to disclose information on the Panchen Lama, the Chinese government has so far refused to share any detailed information that could shed important light on the Panchen Lama's current state. In its standard response, the Chinese government continues to maintain that Gedhun Choekyi Nyima and his family are in perfect health and that they do not wish to be disturbed."